Organisers
The 19th Annual Conference of the
European Association for Machine Translation
Riga, Latvia
May 30 - June 1, 2016
Organisers
EAMT 2016 Committee
General Chair: Mikel Forcada (Universitat d'Alacant)
Track Chairs:
Antonio Toral, Research programme chair (Dublin City University, Ireland)
Tony O'Dowd, User programme co-chair (KantanMT, Ireland)
Alexandru Ceausu, User programme co-chair (Amplexor, Luxembourg)
Local Organisation Chair: Andrejs Vasiļjevs (Tilde, Latvia)
Local host: Juris Borzovs (University of Latvia)
Contacts
Please use the following e-mail addresses to contact us about the conference:
Local organisation: eamt2016@tilde.com
Programme chairs: eamt2016chairs@tilde.com
---
European Association for Machine Translation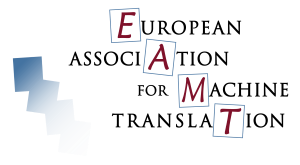 The European Association for Machine Translation (EAMT) is an organization that serves the growing community of people interested in MT and translation tools, including users, developers, and researchers of this increasingly viable technology.
EAMT is one of three regional associations of the International Association for Machine Translation. Its sister organizations are the Association for Machine Translation in the Americas and the Asia-Pacific Association for Machine Translation.
As part of its activities, EAMT organizes workshops and conferences, such as the bi-annual MT Summit, and the annual EAMT conferences or workshops.
Established in 1991, EAMT is a non-profit organization registered in Switzerland.
Tilde

The event will be organised by EAMT in cooperation with Tilde, a leading European language technology company that specializes in custom machine translation and cloud terminology services.
Customers in the public sector, multinational corporations, and large and small language service providers (LSPs) use Tilde's MT systems to boost productivity and facilitate multilingual communication in their everyday work.
Tilde has special experience in developing MT systems for complex, highly inflected languages, particularly smaller European languages.
In collaboration with partners across the globe, Tilde conducts cutting-edge research and innovation in the fields of machine translation, terminology, and conversational interaction.
With offices in three countries, Tilde combines the talents and skills of over a hundred computational linguists, software engineers, language researchers, terminologists, and professional translators.
University of Latvia, Faculty of Computing
The Faculty of Computing in cooperation with the Institute of Mathematics and Computer Science provides higher academic as well as professional education and conducts research in the fields of computer science and information technologies.
The higher education aims to support the development of computing industry by preparing highly skilled, export-capable employees for practical work in private companies and public institutions and by providing the computing industry with academically educated specialists and researchers.
Bachelor and master study programs of the Faculty of Computing are awarded Euro-Inf Quality Label from European Quality Assurance Network for Informatics Education.